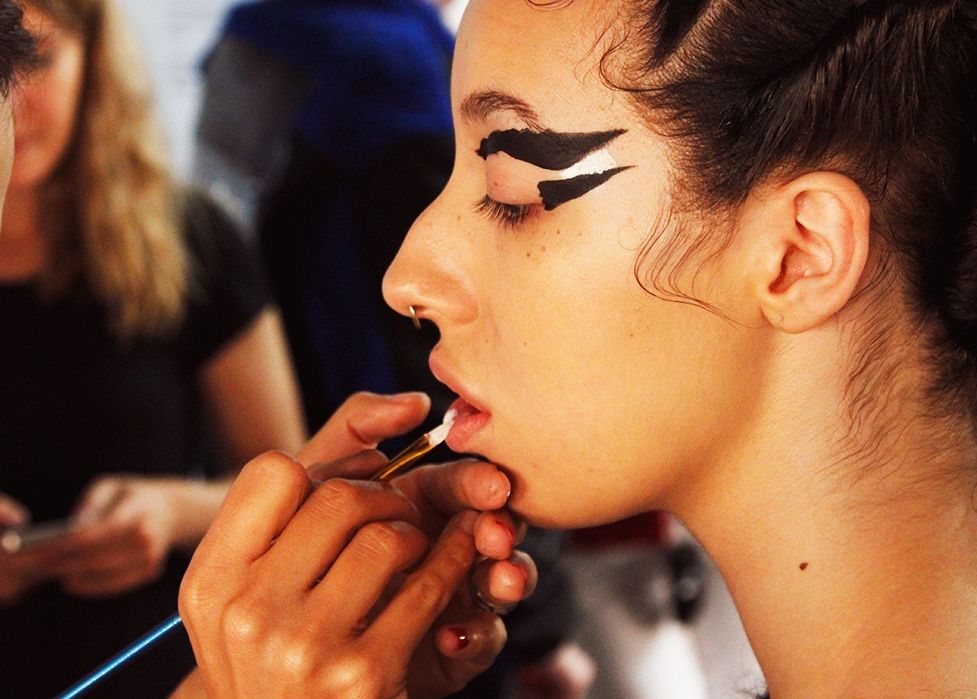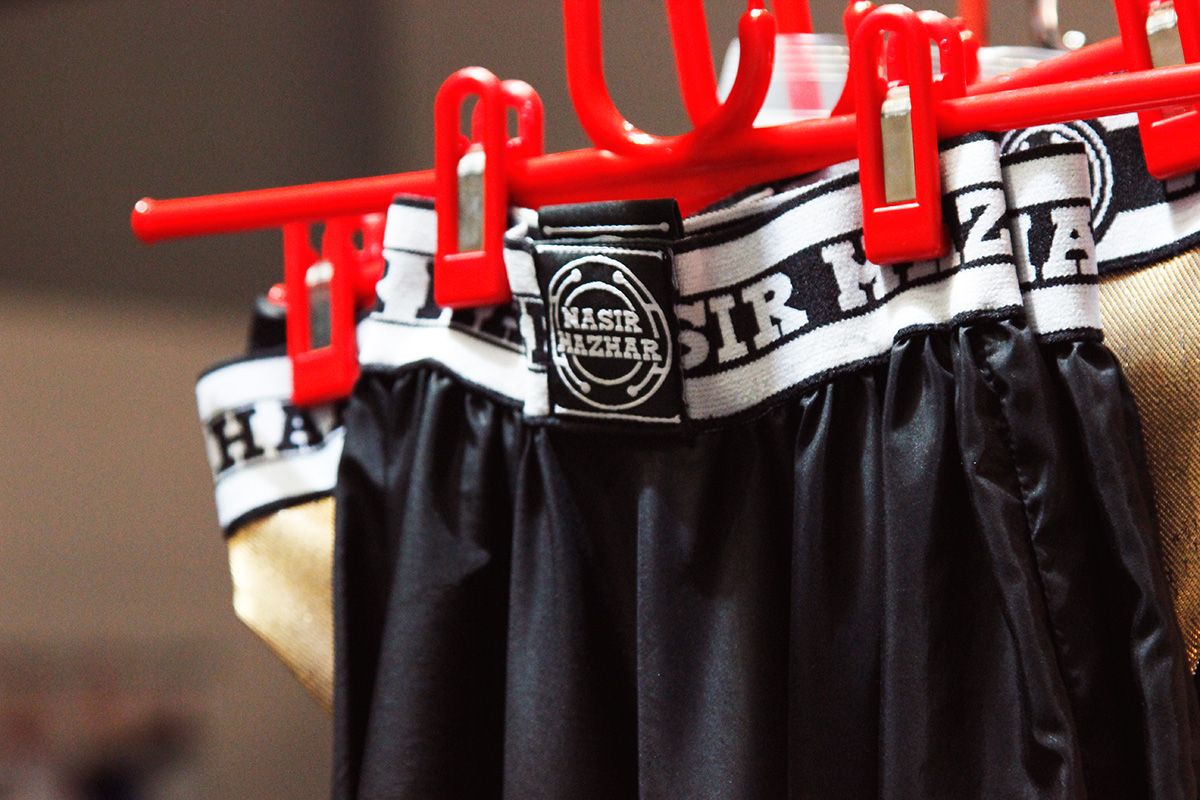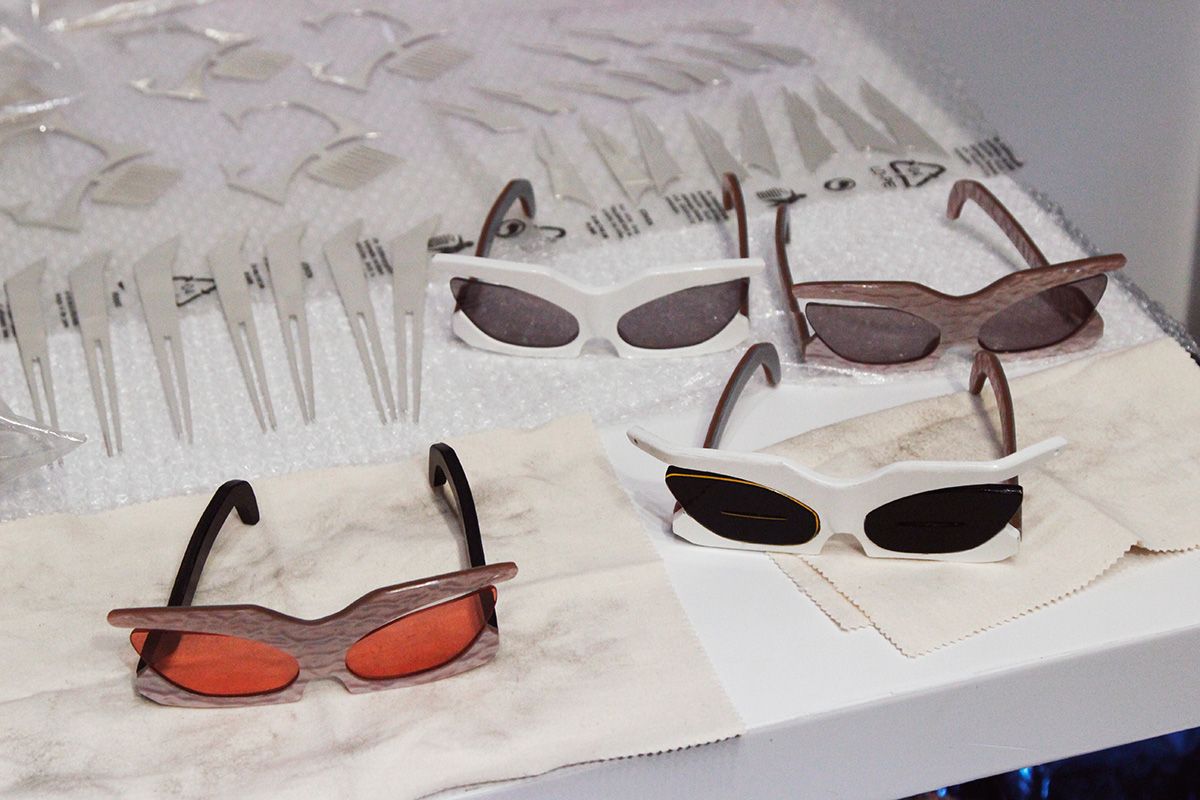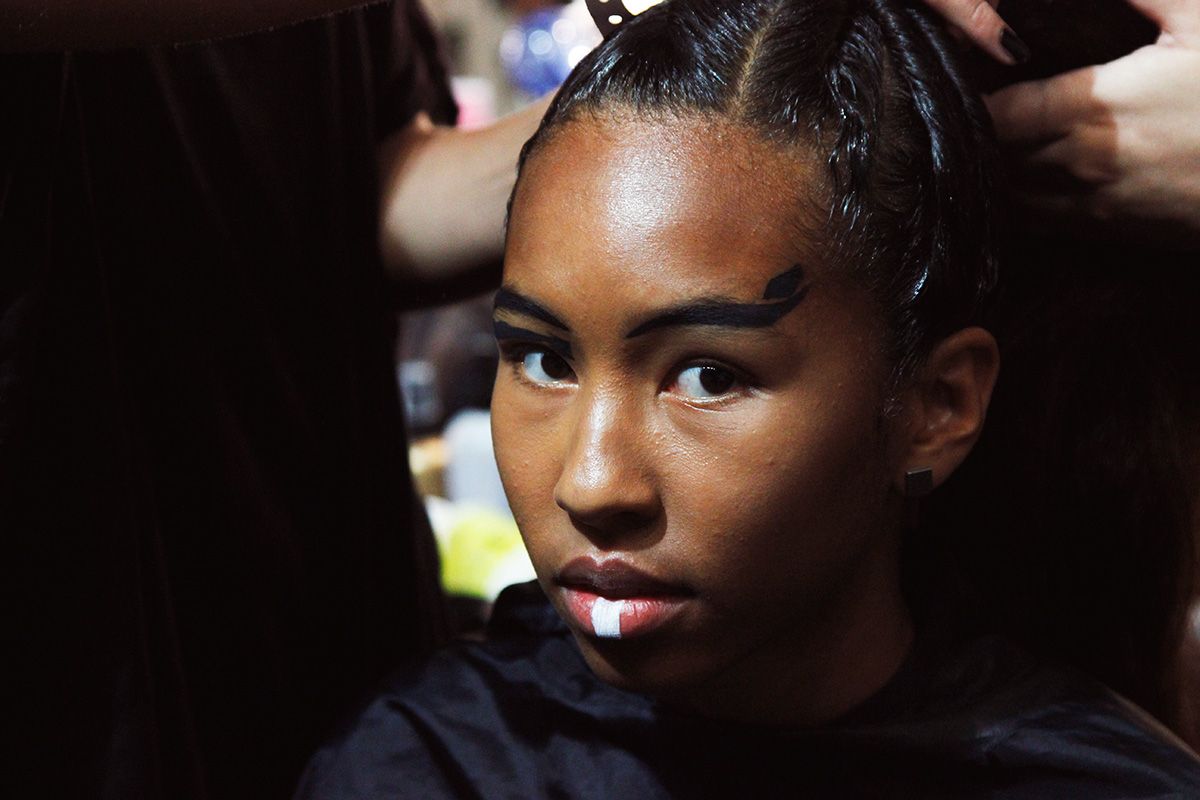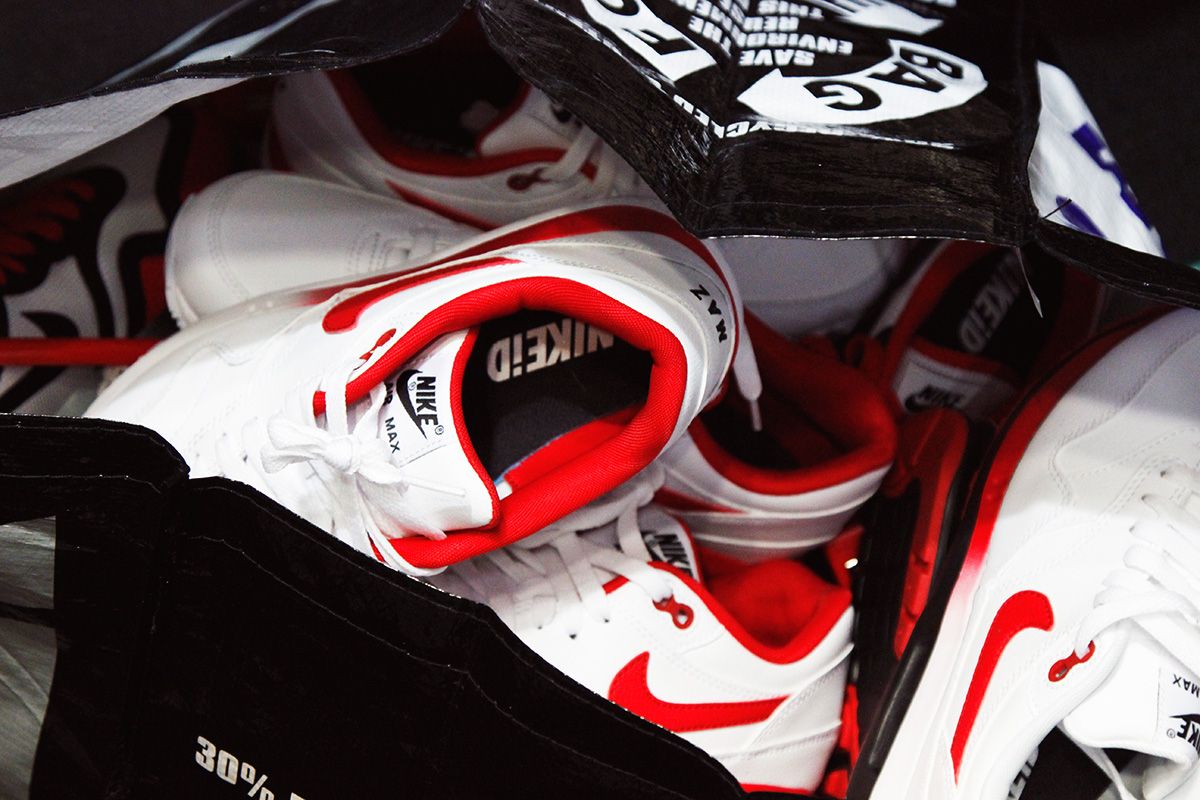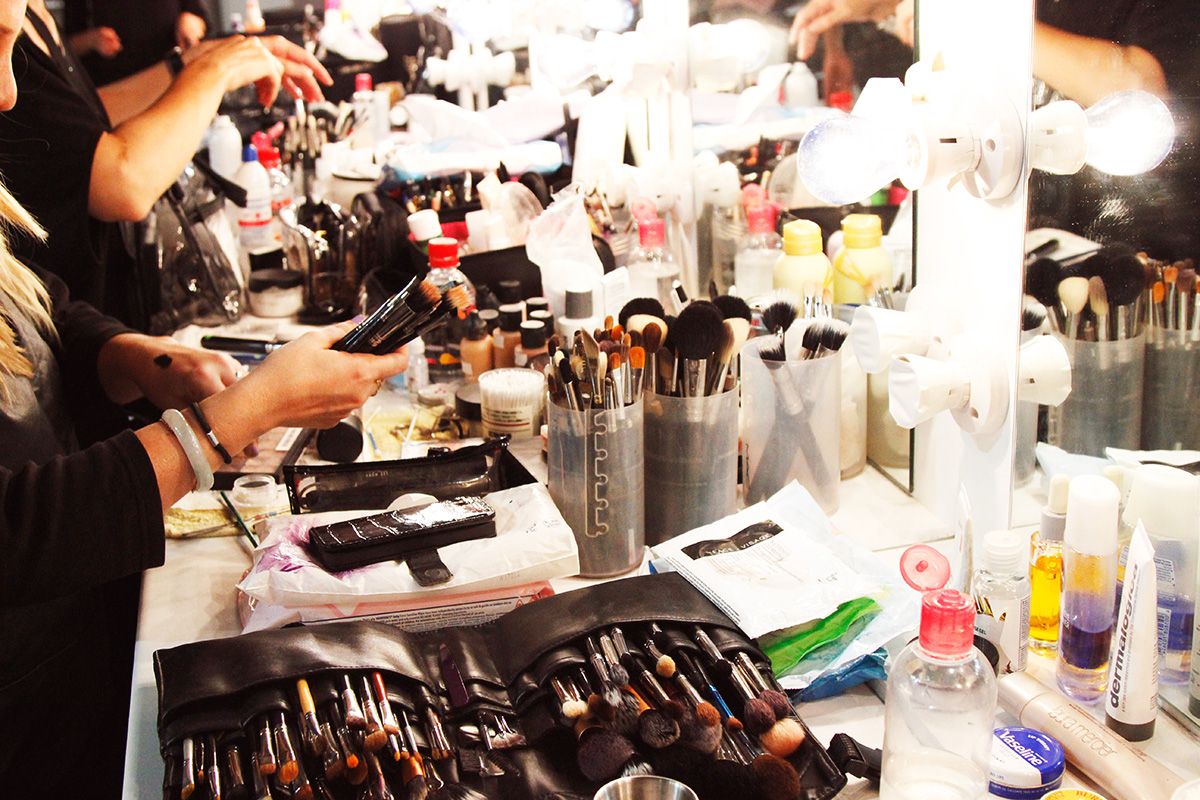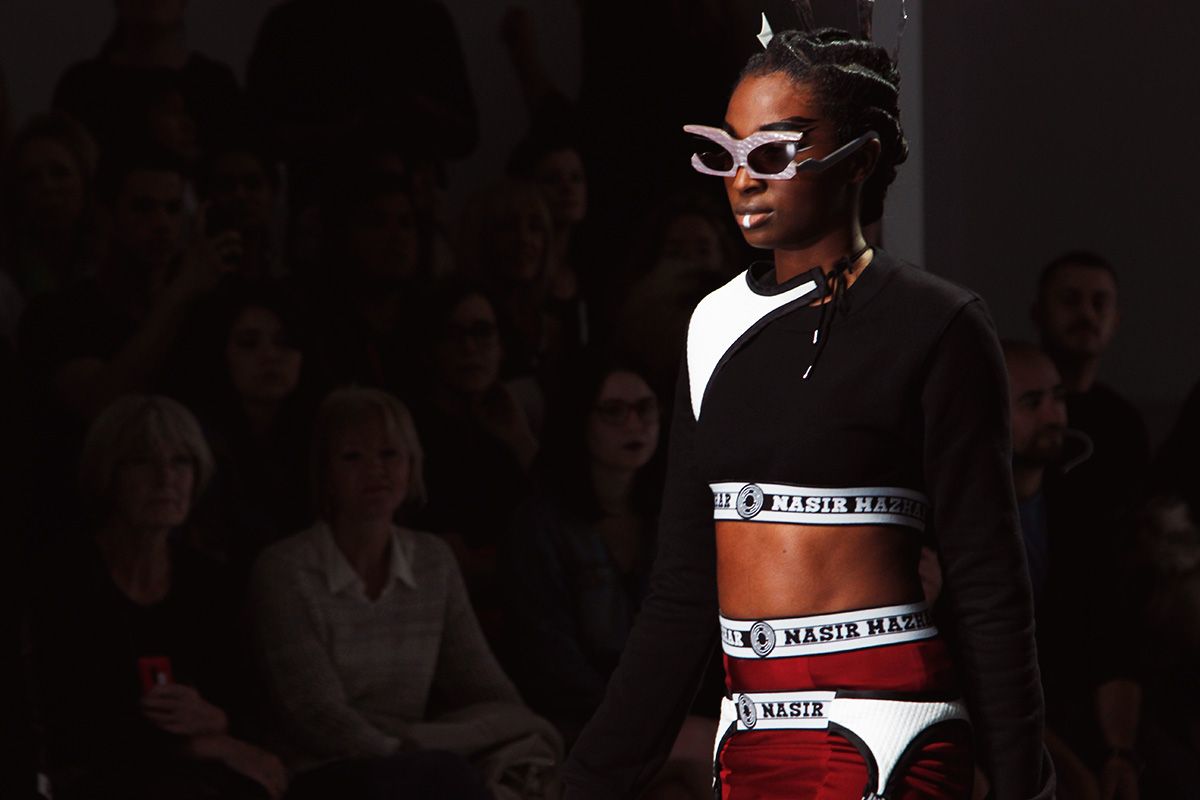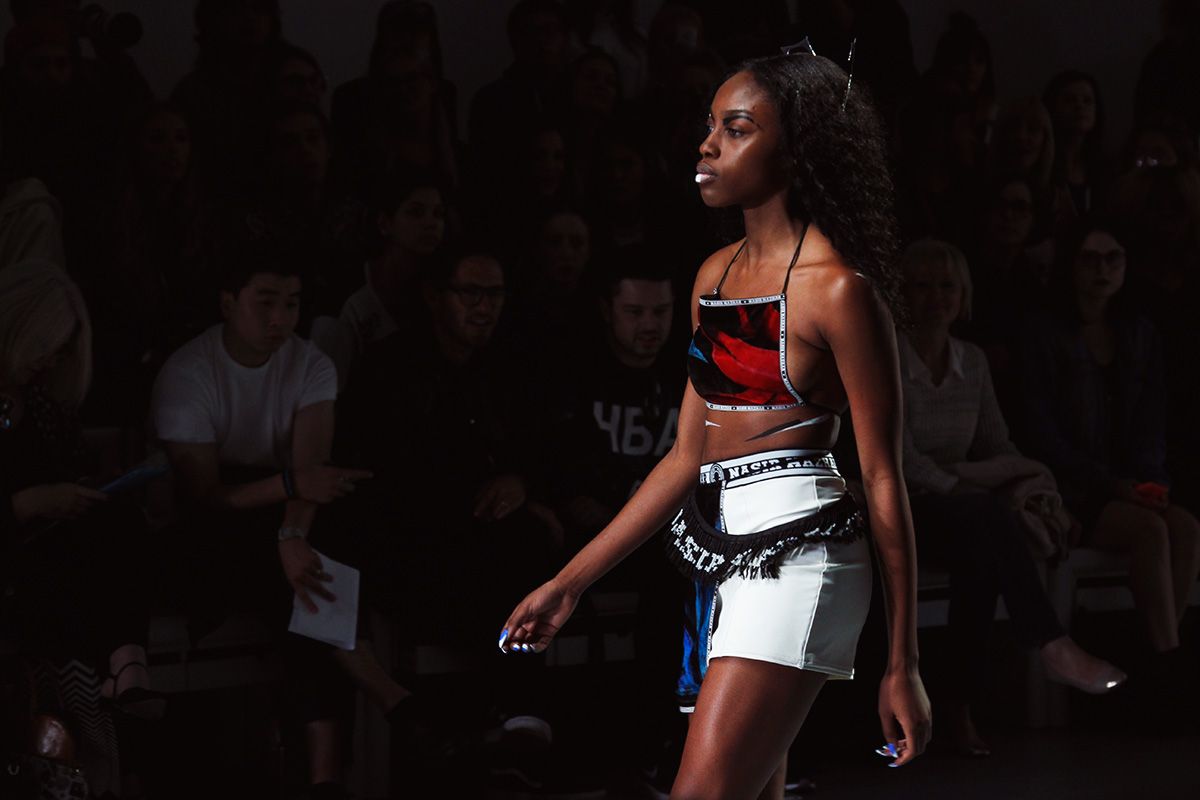 PHOTOS & WORDS: ZOE LONDON
(PLEASE DO NOT REPUBLISH PHOTOGRAPHY WITHOUT CONSENT)
NASIR MAZHAR IS KING OF INNOVATIVE URBAN WEAR. THE ENTIRE LOOK EXCITED ME. HERE'S WHY.


HAIR: ALI PIRZADEH FOR BUMBLE AND BUMBLE
MAKEUP: LAURA DOMINIQUE, FREELANCE
NAILS: ELLIE HARRY FOR WAH NAILS
Nasir Mazhar has been making waves in the urban fashion world for a while now. Having come out of the nurture-ground Fashion East a while back, and moved over to Somerset House in the last few seasons, all eyes were on Nasir to see what he'd bring to the runway for Spring/Summer.
Heavy east/arabic influences adorned the real, curvy, interesting models – made evident from the minute I walked into the backstage area due to the insane eyeliner, by Laura Dominique, using mostly MAC Chromacake in white along with MAC Liner in black for an almost tribal feel, taking the detail down onto the lip, too.
Having described himself as getting 'bored' of hearing everyone talk about sportswear and streetwear straight up, Nasir wanted to fuse this with a more sexy, feminine element this time around to try and shed the label he's grown so tired of. And it showed. The girls walked in contrast length skirts, leg warmer style garments and flared tracksuit bottoms – it was almost covered up compared to his normal style. Being the first of his catwalks i'd actually seen in the flesh, I absolutely adored it. From the style, shape, sizes and ethnicity of the models – all being an entirely mixed bunch – to the soundtrack of jungle style music especially for the show by Faze Miyake, I felt like elements of it can be lifted immediately to be worn out on the street, for the stylish girl gang vibe, without being logo branded 'street' wear.
Hair was by Bumble and Bumble, and as Ali explained to me backstage, they were using an entire tube of the Bb Gel for each model. Crazy? To create the look, the stylists were making a braid style technique, but twisting the hair instead for an almost futuristic look, so it wasn't too street but more polished. As every girl was different, their hair reflected that and they all had different lengths and variants, as the hair was pinned all over the head differently for every single girl. I really love that – working with their individual look and style. The whole thing was raw, and Ali described it to me as being 'happy with any imperfection' as it was a desired part of the look – super real, if you will.
The look was finished by Ellie Harry and the WAH Nails team, and Ellie explained to me that they were using entirely all their own WAH nails polishes, which was great to see them in action. She had been playing about with styles in the run through in the lead up to the show, and made this backwards exaggerated french nail almost by accident and it just seemed to work, and that's where it was born. I do like when sometimes looks don't have a set inspiration or super planned vibe, they just happen, naturally. They had four different backwards frenchies on show, one dark red, one dark green, another dark blue and then the final was just nude. I really love the dark green one!
** SO HOW CAN I DO THIS AT HOME? **
It can be hard reading glossy Fashion Week reports and imagining doing the looks at home, so this season i'm adding in a few easy-to-recreate tips for us normies (and on a budget, too!) I'll be trying some of them out myself. Here's how you can get a similar style to the Nazir Mashar SS15 look!
– Take your black liner even more graphic than usual, and try a bit of white in the mix too!
– Layer up sports style crop tops for an intricate street wear look.
– Mix up your look by wearing trainers instead of shoes!
– Instead of a normal french, try the WAH girl inverted look.
– Wear your look with confidence, I think that is so key to the Nasir girl.
What do you think of Nasir Mazhar's SS15 look? The backstage area was one of the calmest i'd ever seen, ever, and I just fell in love with everything about this show.