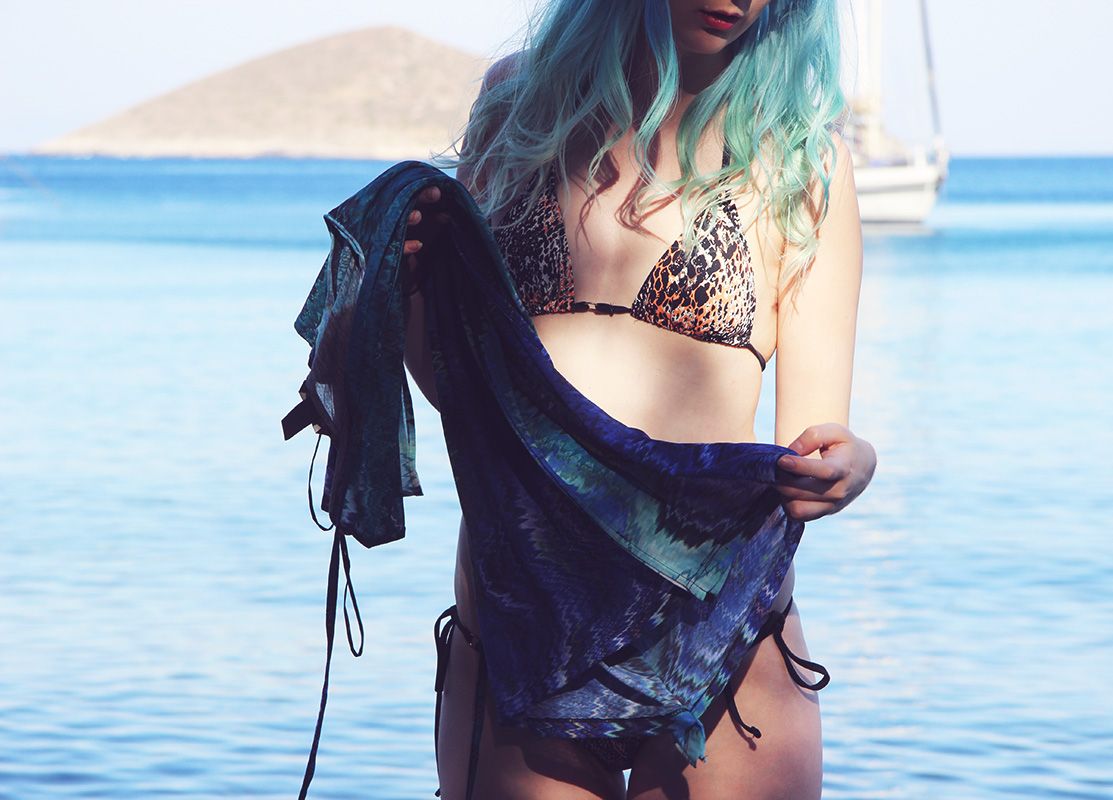 PHOTO: GEORGE ROCKETT
EDIT & WORDS: ZOE LONDON
…IS ONE OF THE WORST PHRASES IN FASHION – THAT I JUST CAN'T STAND
"How to get bikini ready." "Get into shape for Summer!" "Read: best ways to prep your body for the beach." No no no no million times no. Sorry for tricking you with the title there, but this post isn't your average regurgitated false spew about dieting to get a bikini body. Not in the slightest.
So you've booked your holiday, you've packed your bags, braved the flight and landed at your destination ready for a few days of bliss in the sun. Then you have that moment of dread, the swimwear reveal. It feels like the world is watching you, right? Oh gosh, I really dread it and have done for years. It's practically naked!? Panic. It's such a hard thing to overcome when in this country it's very rare we have to strip down to just a bikini on a daily basis, and even though you're miles away from home, you still feel nervous about taking off your dress to reveal your bikini underneath.
Well if any of this rings true to you you're not alone – because that's just how I feel, too. For the last couple of years i've worn a bikini on holiday but where possible I usually favour a swimsuit. I've not been very body confident growing up in my twenties and well, simply put – because my body isn't the 'ideal' body the media paints for us. I might have skinny legs and arms, and my tum isn't dreadful considering the amount of chocolate fingers I eat, but I have no breasts at all, no curves, but a weird pear shaped bum and hips. For a long time I really battled with hating what I saw when I looked back at myself, so getting into a bikini just wasn't an option, and the only holidays I took I wore a swimsuit. Still now I am mostly covered up in my day to day life, opting for oversized t shirt dresses and long shorts, but i'm getting a lot better as time goes on.
Being around George has made me so comfortable to finally feel more carefree in my bikini, leading to this instagram picture here which spurred me on to elaborate in a post and just write a few more words because well, we're all in this together.
First up I think one of the things that was a pretty bad catalyst for me was reading magazines that didn't promote real, natural girls. Also gossipy ones that were always talking about celebrities and their weight on holiday in their bikinis. I cut reading those out, and switched my entire magazine intake to just art based/fashion ones like Dazed, i-D and Wonderland that focus on the clothes and not the person – and the only magazine I really read religiously at the minute is Company, because every girl in there is a real person. I think it's so good to have a mag like Company these days for young teens who will look up to bloggers, youtubers, creatives, artists and authors and all round powerful, strong women that don't conform to a certain size – and have real sized bodies. Cutting out my photoshopped media intake as much as possible genuinely made such a difference to feeling more confident in myself, because it's an awful unrealistic representation of women to airbrush out her curves and wobbly bits. It really winds me up that it got to me and made me feel ugly and insignificant, but at the end of the day it's the way they want you to feel, right? Well, don't let them win. I'm so much happier since I gave up reading it all.
I also tried out a new thing, where I stood a lot more infront of the mirror naked after a bath or a shower, actually looking at myself, and trying to find nice positives in what I saw rather than covering it up all the time. For example, I might have tiny boobs that disappear in most clothing and make me look like a small boy, but they allow me to wear different styles of clothing. Ditto to big breasted girls, who have the positives of beautiful, feminine curves, but have to wear other certain styles of clothing. We all have pros and cons, but fundamentally we're all actually perfectly normal. That's the key here.
If you see anything in your mag that says 'get beach ready' by encouraging you to lose weight, gain weight, change yourself – rip it out and throw it in the bin. The only beach ready you need in your life is in your head, with the confidence to strut around that pool like you're Beyonce. That and realising that my body – as well as yours – is totally normal, is what has taken me years to realise. I'm embarrassed I hated my bikini body for so long, but i'm now actually a lot less self conscious and worried to be on the beach. I only had a flicker of self doubt on the first day on my most recent holiday, before turning around all panicky realising that *no one* else was looking at me in horror.
Heck, even posting that photo above has taken me days to pluck up courage to do, but if this blog is anything, it's my own natural, honest thoughts. And there they are. Get a bikini body? Pah, be happy, eat what you want, look after yourself and remember you're normal. Just like me.